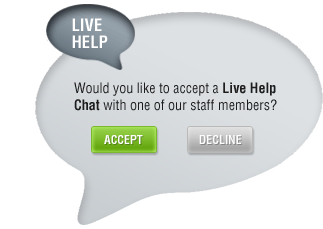 Counting Capsules and Tablets with TORBAL Pill Counting technology
Counting Capsules and Tablets with a TORBAL Pill Counter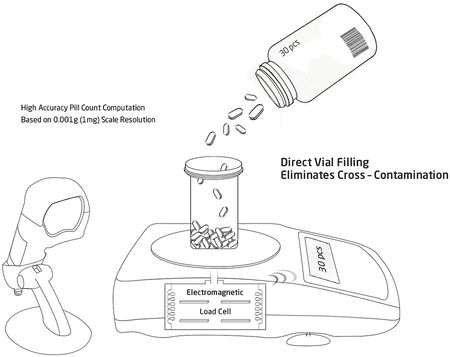 Torbal tablet counters count pills of any size shape or form. Our counters are not hindered by transparent pills or uncoated dusty tablets. Typical transaction counts of 100 pills are usually performed in less than 20 seconds. Our scales are also superior inventory counters. A full supply bottle can be counted in less than 10 seconds.
Our pill counters do not cross contaminate and never have to be cleaned. Most models are essentially maintenance free. We offer some of the most affordable pill counting devices on the market, with a guaranteed ROI in just few weeks.
Patent pending features such as Advanced Pill Counting Accuracy and Pill Fragment Detection guarantee superior accuracy at all time.

TROBAL Pill Counting technology versus other tablet counters

Torbal Pill and Tablet Counters:
Pills, tables, or capsules counted on a Torbal pill counter never come in contact with any parts of the unit. Pills are filled directly from the supply bottle into the vial or a weighing boat, therefore cross contamination is completely eliminated
Torbal pill counters use highest quality electromagnetic force restoration load-cell mechanisms that are used to perform counting calculations with superior accuracy and speed.

Optical and Mechanical Pill Counters:
Optical, mechanical, and sensor array counters, usually rely and handling and sorting pills through a series of funnels, chutes, and moving parts. While poured, pills come in contact with many parts of the unit. Uncoated generic pills release dust and residue which causes potentially dangerous and harmful cross contamination.
Pill dust dust cause optical pill counters to miscount because sensor arrays cannot penetrate the residue obstructing the optical sensors.
Optical counters cannot handle pills poured at excessive speeds. When filling too fast, sensor arrays are unable to detect passing pills, in which case the counter miscounts, or requires the operator to perform a recount.



Case Study - DRX-500s Cauting Scale vs. Optical and Mechanical Tablet Counters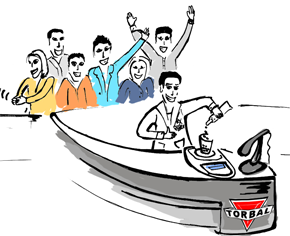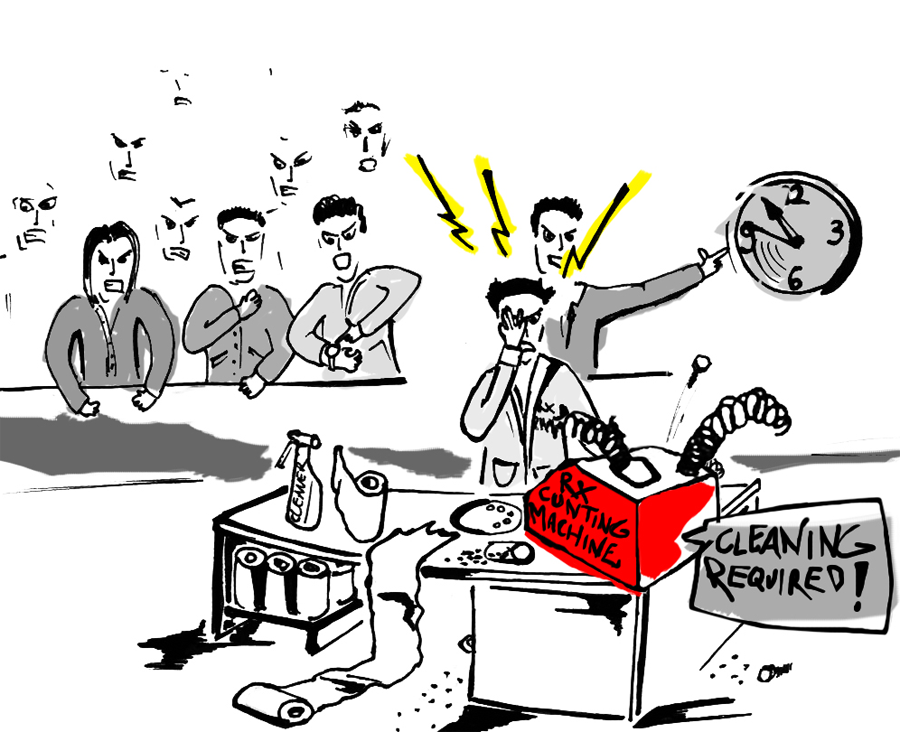 TORBAL
A typical Rx Counter
When counting on a TORBAL, pills are poured directly into the vial. This eliminates cross contamination and the need for time consuming cleaning.
When counting with a mechanical Rx Counting machine, pills come in contact with internal parts of the unit. This can cause serious cross contamination and may require users to clean the machine several times a day, or more often when counting dusty tablets. Cleaning is a tedious process that requires disassembly and can last 4 minutes or longer.
TORBAL Pill Counters are very affordable. Request a quote, you'll be pleasantly surprised.
The starting price of some Rx Counting pour-through machines is $5,000.00, for this much you can purchase two TORBAL DRX-500sx pill counters, as well as the TORBAL Server with preinstalled software.
The TORBAL DRX-5SX Pill Counting System offers over 30 features and functions. Rx Verification, E-mail Reporting, Transaction and user monitoring, Drug Information and many more. See all...
The same basic models that start at 5k, do not offer much in features. All you get is a small vacuum fluorescent display. No Rx Verification, no drug info, no transaction logs or reporting...
TORBAL counters count pills essentially as fast as you can pour them. The total time to complete a prescription of 100 tablets is less than 20 seconds. This includes Scanning the NDC code, Performing Rx Verification and logging the transaction.
The speed of mechanical pill counters is often compromised by cross contamination. Dusty uncoated generic tablets leave residue on optical sensors and detector windows. This forces a user to stop counting and perform maintenance. The total time required to set-up cleaning supplies, disassemble the unit, and performs cleaning, significantly increases the average time per prescription count.
TORBAL pill counting scales are manufactured with highest quality electromagnetic load-cells which offer outstanding pill counting accuracy. All scales are NTEP Certified for prescription weighing and pill counting. To maintain pill counting accuracy it is recommended to periodically update the average pill weight information. On the DRX-500sx models updating is performed automatically while filling a prescription.
Just like speed, the accuracy of mechanical pill counters is compromised by cross contamination. Sensors and detector windows can easily get obstructed by pill residue and dust. This may cause miscounts and errors.
Phone:
Toll Free: 1 866-473-6900
Outside of US: (973)473-6900
Fax: (973)777-8302
Mail:
Scientific Industries
80 Orville Dr.
Bohemia, NY 11716
Email: sales@torbal.com

Hours of Operation:
M-F 9:00 AM - 5:00 PM EST