Introducing the DRX-500s Cloud!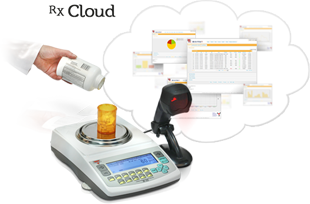 DRX-500s pill counting scale is one of the most affordable, accurate, and fastest pill counters on the market; and now the 500s is available with free access to the entire FDA National Drug Code directory, as well as a database of over 3,000 NDC piece weights.
The DRX-500s Cloud pill counter uses the internet to connect to an online application which is hosted on a premium dedicated web server. When purchasing a Torbal cloud pill counter, users are given access to a free private online account which monitors and tracks pill counting transactions. Each transaction is logged in the user's secured privet account, while drug piece weights are retrieved from a public database which is frequently updated and expanded by all cloud users and subscribers. The Torbal Cloud uses advanced algorithms and software to monitor drug piece weights, updates, and newly added drugs to make sure that counts are always accurate.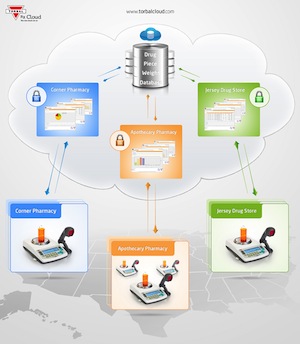 Step-by-step, how it Works:
Easy setup
The DRX-500s cloud pill counters are plug-n-play. Once you receive your scale, simply set it up and plug it into the internet just like you would with your PC or Laptop. There is no complex network configuration or interfacing. As soon as you plug the pill counter into one of your network ports, it will connect to the Torbal Cloud and it will be ready for pill counting.
Ultrafast three step counting
Counting on the DRX-500s Cloud tablet counter is a fast and easy process that involves only three steps. A typical count is performed in less than 20 seconds. Counting a full supply bottle for inventory purposes, typically takes less than 10 seconds.
Counting Steps:
Tare the vial or a disposable weighing boat – performing a short tare eliminates cross contamination and allows for maintenance-free use of our pill counters. Since pills never come in contact with any parts of the counting scale there is no need to perform tedious maintenance and cleaning that is often required on mechanical and optical counters.
Scan the NDC located on the drug supply bottle – once the NDC is scanned, the scale uses your internet connection to retrieves the drug weight along with important drug data from the Torbal Cloud server. Since the database is updated by all Torbal subscribers you can be sure that the retrieved drug data is current and up to date.
Fill the medication –perform the count by pouring the pills into the vial or a container on the pan. Pills are counted as fast as they are poured into the vial. Once you are finished with the count the transaction is automatically logged in your private online account.
Accessing your online account
Pharmacies that purchase the DRX-500s Cloud pill counting scale are set-up with a FREE private online account that can be access by logging-in at https://www.torbalcloud.com/. You can access your account from any PC, Laptop, or Tablet that has access to the internet. The account is secured with a 256-bit SSL Encryption.
Once logged in, users can view detailed reports and stats of all pill counting transactions performed on the counting scales. Reports show valuable information such as the name and ID of the user that performed the count, name and the quantity of the counted drug, as well as date time and location of the performed transaction.
All reports are intuitively organized and sorted in tables for quick viewing, printing, and exporting. Specialty reports track user caused miscounts or failed Rx Verification transactions, and most frequently counted drugs in the pharmacy.
Notifications, Alerts, and Auto E-mail Reporting
The Torbal Cloud automatically notifies account administrators via e-mail whenever a user causes a miscount or fails to perform Rx Verification. Reports can be automatically e-mailed to the administrators daily, weekly, monthly, or quarterly.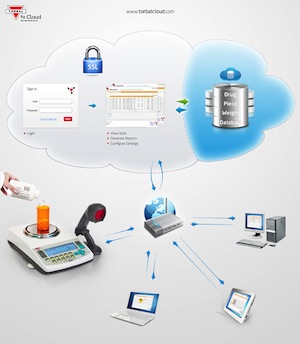 Database Access
When counting on a scale connected to the Torbal Cloud you receive access to one of the largest and most updated drug-piece-weight databases available. The database is built, supported, and updated by all Torbal Cloud subscribers; therefore, you get instant access to drug piece weights uploaded by others. Updating is almost unnoticeable as the maintenance load is shared by all users and subscribers. When connected to the cloud you can be sure that your counts will be fast, accurate and essentially maintenance free.